Milksha's menu in Singapore offers a delightful variety of handcrafted beverages that are made with fresh ingredients, sourced directly from Taiwan. Their signature drinks, including the creamy Milksha and refreshing Fruit Tea series, are bound to leave you wanting more. Explore their elaborate menu and treat your taste buds to a thirst-quenching experience like no other.
What are the specials at Milksha?
The best 5 specials at Milksha are Fresh Taro Milk, Brown Sugar Milk with Honey Pearl, Hojicha Jelly Frost, Izumo Matcha Milk, and Black Sesame Milk. The menu offers fresh milk series, milk tea latte series, milk foam series, premium tea series, special concoctions, and ice cream. Delicious options, small traces of caffeine, and dairy-free alternatives are available.
Milksha Menu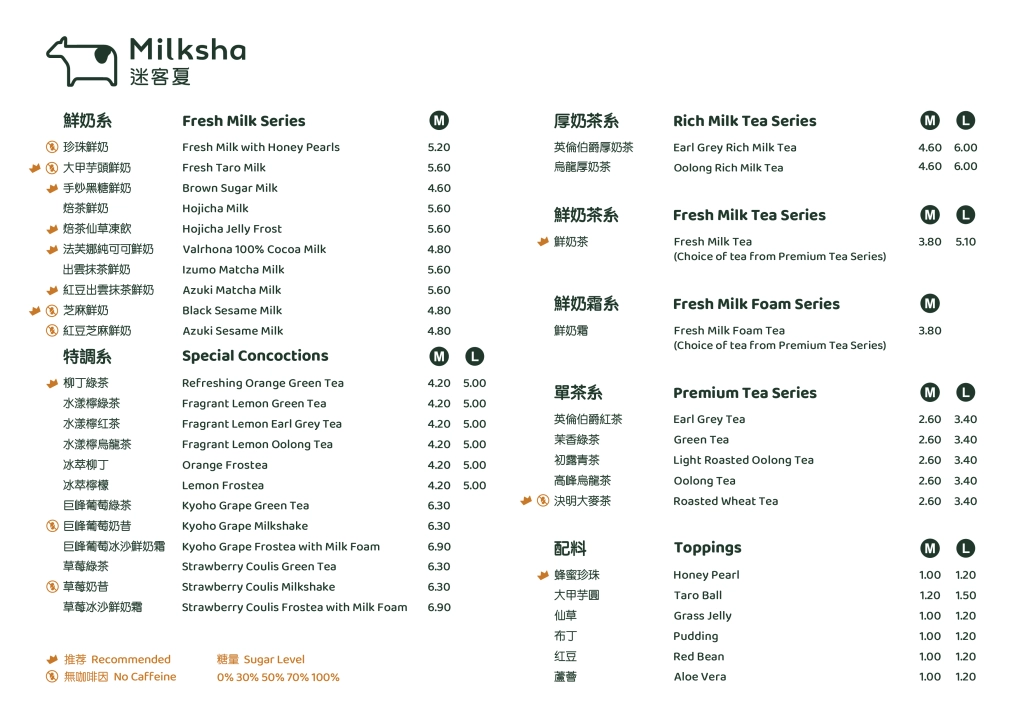 Milksha Menu Singapore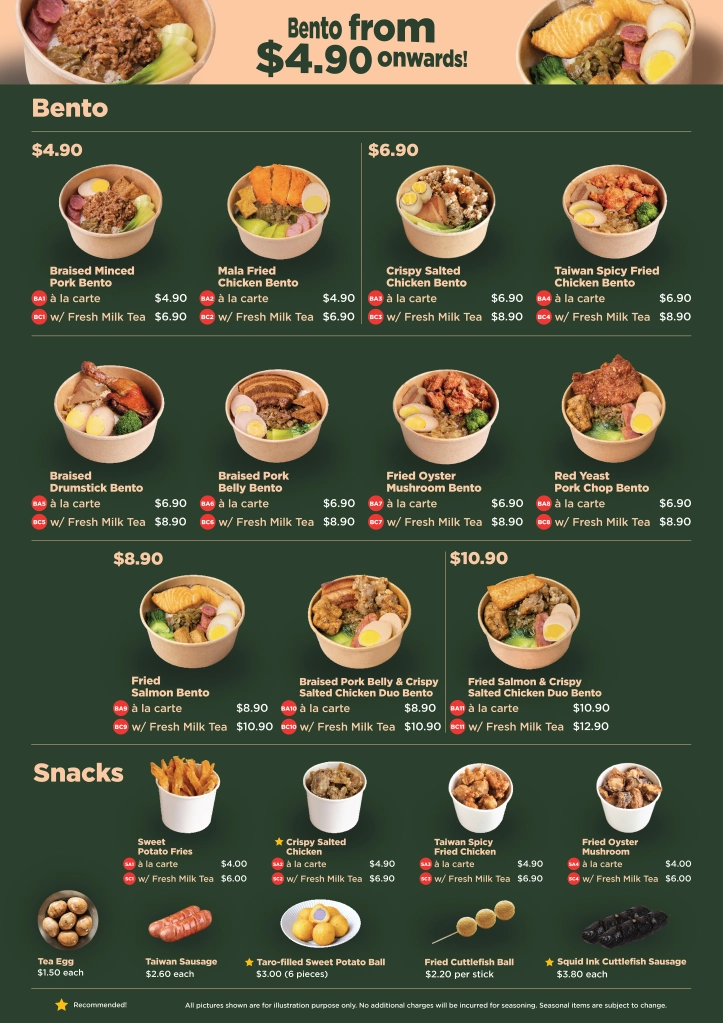 Menu
Price
Fresh Milk Series
Fresh Milk with Honey Pearl
It's all in the name
S$4.20
Fresh Taro Milk
Taro imported from dajia, Taiwan are steamed and hand-mashed daily, then blended with fresh milk
S$4.80
Brown Sugar Milk
A lighter rendition compared to our bubble tea counterparts. Pure brown sugar stir-fried into syrup, then mixed with fresh milk. Contains small traces of tea
S$4.05
Brown Sugar Milk with Honey Pearl
A lighter rendition compared to our bubble tea counterparts. Pure brown sugar stir-fried into syrup, then mixed with fresh milk. Best enjoyed with our signature honey pearls. Contains small traces of tea
S$4.80
Hojicha Milk
Premium hojicha tea leaves that carry a robust, heavy roasted aroma are freshly brewed then mixed with fresh milk. Contains small traces of caffeine
S$4.80
Hojicha Jelly Frost
Premium hojicha tea leaves that carry a robust, earthy aroma are freshly brewed then blended with ice & fresh milk. Comes with refreshing chunks of housemade grass jelly. Contains small traces of caffeine
S$4.80
Valrhona 100% Cocoa Milk
Premium valrhona cocoa powder from France is mixed with fresh milk for a creamy indulgence. A sure-win for kids!
S$4.13
Izumo Matcha Milk
Japanese matcha powder from a century-old brand is freshly brewed, then mixed with fresh milk for a bittersweet combination. Contains small traces of caffeine
S$4.80
Azuki Matcha Milk
Japanese matcha powder from a century-old brand is freshly brewed, then mixed with fresh milk. Topped with azuki beans for a bittersweet finish. Contains small traces of caffeine
S$4.80
Black Sesame Milk
Rich, nutty black sesame powder is made into a paste then mixed with fresh milk. Best enjoyed when topped with signature honey pearls. Does not contain caffeine
S$4.13
Azuki Sesame Milk
Rich, nutty black sesame powder is made into a paste then mixed with fresh milk. Topped with azuki beans for a bittersweet finish. Does not contain caffeine
S$4.13
Fresh Milk Tea Latte Series
Earl Grey Latte
A best seller. Freshly brewed earl grey tea exuding aroma of bergamot is mixed with fresh milk for a creamy finish. Contains small traces of caffeine
S$3.30
Green Tea Latte
Freshly brewed green tea with sweet floral notes of jasmine is mixed with fresh milk for a smooth finish. Contains small traces of caffeine
S$3.30
Oolong Latte
Freshly brewed oolong tea leaves with sweet floral scent is mixed with fresh milk for a velvety finish. Contains small traces of caffeine
S$3.30
Roasted Wheat Tea Latte
Freshly brewed roasted wheat tea with an earthy flavor reminiscent of roasted barley is mixed with fresh milk for a unique concoction. Does not contain caffeine
S$3.30
Fresh Milk Foam Series
Milk Foam Earl Grey Tea
Freshly brewed Earl Grey tea which exudes an aroma of bergamot makes it slightly citrusy with a strong tea fragrance. Topped with a layer of creamy fresh milk foam. Contains small traces of caffeine.
S$3.30
Milk Foam Green Tea
Freshly brewed Green tea has a delicate and refreshing flavor with notes of sweet Jasmine floral finish. Topped with a layer of creamy fresh milk foam. Contains small traces of caffeine.
S$3.30
Milk Foam Light Roasted Oolong Tea
Freshly brewed Light Roasted Oolong tea has a subtle hint of roasted and slight bittersweet aftertaste. Topped with a layer of creamy fresh milk foam. Contains small traces of caffeine.
S$3.30
Milk Foam Oolong Tea
Freshly brewed Oolong tea is strong, fragrant and full of flavor. Topped with a layer of creamy fresh milk foam. Contains small traces of caffeine.
S$3.30
Milk Foam Roasted Wheat Tea
Freshly brewed Roasted Wheat tea has a unique toasty flavor reminiscent of roasted barley. Topped with a layer of creamy fresh milk foam. Does not contain caffeine.
S$3.30
Premium Tea Series
Earl Grey Tea
Freshly brewed earl grey tea which exudes an aroma of bergamot makes it slightly citrusy with a strong tea fragrance. Contains small traces of caffeine
S$2.25
Green Tea
Freshly brewed green tea has a delicate & refreshing flavor with notes of sweet jasmine floral finish. Contains small traces of caffeine
S$2.25
Light Roasted Oolong Tea
Freshly brewed light roasted oolong tea has a subtle hint of roasted & slight bittersweet aftertaste. Contains small traces of caffeine
S$2.25
Oolong Tea
Freshly brewed oolong tea is strong, fragrant & full of flavor. Contains small traces of caffeine
S$2.25
Roasted Wheat Tea
Freshly brewed roasted wheat tea has a unique toasty flavor reminiscent of roasted barley. Does not contain caffeine
S$2.25
Special Concoctions
Refreshing Orange Green Tea
A refreshing sweet-sour blend made with freshly brewed green tea & freshly squeezed Taiwan orange juice. Does not contain dairy
S$3.60
Zesty Lemon Green Tea
A zesty concoction made with freshly brewed green tea and 100% pure lemon juice. Does not contain dairy.
S$3.60
Orange Frostea
Freshly squeezed orange juice blended with ice & green tea. Does not contain dairy
S$3.60
Lemon Frostea
Freshly squeezed lemon juice blended with ice and green tea. Does not contain dairy.
S$3.60
Ice Cream
Fresh Taro Milk Ice Cream

S$3.60
Earl Grey Latte Ice Cream (120ml)

S$3.60
Black Sesame Milk Ice Cream (120ml)

S$3.60
Ice Cream Bundle (Assorted Flavors – Pack Of 3)
3 assorted flavors x 120ml. Consists of 1x Taro Milk, 1x Earl Grey Latte, 1x Black Sesame.
S$10.35
Ice Cream Bundle (Assorted Flavors – Pack Of 6)
6 assorted flavors x 120ml. Consists of 2x Taro Milk, 2x Earl Grey Latte, 2x Black Sesame.
S$19.80
Milksha Location & Working Hours
| Location | Working Hours |
| --- | --- |
| VivoCity #01-159/160/161, 1 Harbourfront Walk, Singapore 098585 | 11am to 10pm (daily) |
| Suntec City #01-312, 3 Temasek Boulevard, Singapore 038983 | 11am to 10pm (daily) |
| The Centrepoint #B1-42, 176 Orchard Road, Singapore 238843 | 11am to 10pm (daily) |
| Junction 8 #02-K4/K5, 9 Bishan Place, Singapore 579837 | 11am to 10pm (daily) |
| Funan #01-K05, 107 North Bridge Road, Singapore 179105 | 11am to 10pm (daily) |
| Compass One #01-48/49, 1 Sengkang Square, Singapore 545078 | 11am to 10pm (daily) |
| Changi City Point #01-30/31, 5 Changi Business Park Central 1, Singapore 486038 | 11am to 10pm (daily) |
| 313@Somerset #B3-54/55, 313 Orchard Road, Singapore 238895 | 11am to 10pm (daily) |
| Clementi Mall #01-01, 3155 Commonwealth Avenue West, Singapore 129588 | 11am to 10pm (daily) |
| Plaza Singapura #B2-49/50, 68 Orchard Road, Singapore 238839 | 11am to 10pm (daily) |